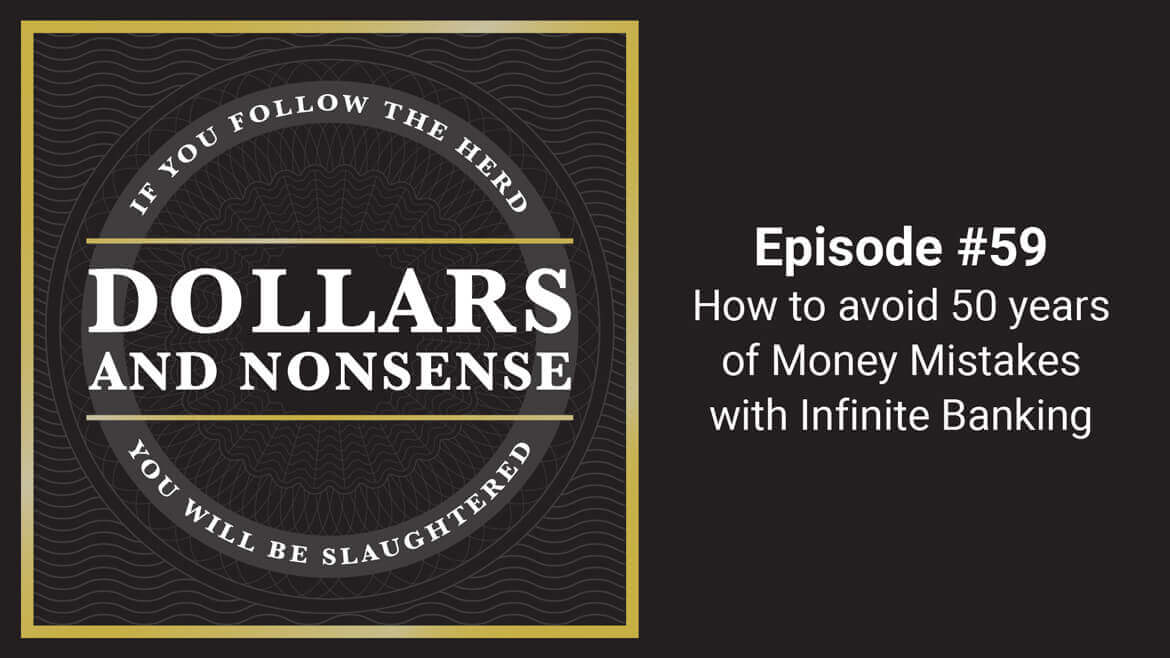 E59: How to Avoid 50 Years of Money Mistakes with Infinite Banking
Ray Poteet joins us to share the financial mistakes that he's made over the past 50 years to help you avoid the same money pitfalls. These are lessons from both in the investment world, as well as the errors he made while initially practicing Infinite Banking.
A lot of people like to talk about the success that they've had. But, often, the best lessons come from other people's mistakes. Ray is very efficient with money and rarely loses anymore because of what he's learned from financial mistakes made in the past. In this episode, he shares with you so you can get a leg up and don't have to learn the hard way what works, what doesn't, and what's holding you back.
A History Lesson and Money Mistakes Overcome:
Where Ray got his start in life insurance
His early money mistakes
Lessons from the financial crashes of the '70s, '80s, early 2000s, and 2008
The moment Ray felt completely betrayed by his industry and why
Uncovering the cash fallacy
When and how IBC came into Ray's life
When Ray realized he'd missed out on an easy $183,000
Focusing on the short view and missing the big long view
The small mental shifts in perception that make a huge difference in your wealth
Episode Takeaways:
Episode Summary: How To Avoid 50 Years of Infinite Banking Mistakes 
In this episode, Raymond (Ray) Poteet is back with Nate and Holly to share some of the financial mistakes he has made in the last 50 years – both in the investment world and through infinite banking. He discusses his mistakes, what he has learned from them, and how you can avoid making similar ones in your own life. The episode also dives into personal, financial, and mental shifts that can help you on your financial journey. 
Who is Ray Poteet? 
Ray is the founder of Alpha and Omega Financial Services in Lawrence, Kansas. He has several years of experience in the financial field. He began his financial career selling products such as life insurance but has since shifted his focus on infinite banking. Through the years he has accumulated several accreditations and honors including, Chartered Financial Consultant, Life and Qualifying Member of the Million Dollar Round Table, and more. It is no surprise that he had been able to help several clients navigate their finances and become their bankers. Outside of the financial world, Ray is a devout Christian and ensures that his work efforts align with his spiritual beliefs. 
Early Financial Years 
Ray began his financial years in the life insurance business. He heard about the life insurance world and knew that good money could be made in it. He began selling life insurance and was making a decent wage. However, when his wife became pregnant, he knew he would have to do more to supplement their income. He began also selling health insurance and term insurance. Over the years, he grew quite successful in the field. He became a member of the top of the table in 1978 and later the million round table. 
He continued to expand his business, by creating the Alpha and Omega Financial Services. It began as a pension company, but as Ray acquired more financial designations, it shifted more towards money management. His business continued to thrive until the real estate market crash in the 70s. The real estate market was doing well, so Ray and many of his clients had stock in it. After the crash, they faced major financial loss. 
 "I was using insurance as a storehouse rather than a bank"
It was during this time, that Ray began borrowing from his insurance policies, but he did not have the knowledge that he does now. He was saving the money he was supposed to save and paying the policies back, but he was unaware of the potential the policies had. 
Ray was able to rebuild his business, but there was another market drop in the late 80s to early 90s when "dot com" was introduced. His business took another hit but was able to recover. This is when he learned about the LEAP and VIVAS programs. He implemented the programs into his business, but the government shut them down. He was at a loss at this point, and not sure what to do next; this is when Infinite Banking came into his life. 
Infinite Banking Financial Mistakes 
"I was just, and still feel that way, totally betrayed by my industry." 
Ray received Nelson Nash's book from his late friend, Norm Baker. He read the book and was shocked at what he learned. He called Nash to ask questions about the book and vowed to learn all he could about infinite banking. 
After attending several of Nash's seminars, Ray was still surprised by all the knowledge he had gained. He did not know you could use life insurance to buy cars, own houses, pay for education, and so much more. He looked at the numbers and realized that if he had implemented Nash's teachings earlier on, he would have had $183,000 extra profit from his car purchases. However, Nash's book did not teach you how to be successful with infinite banking, just that it is possible. Nonetheless, Ray was inspired by this Nash and it was from the mistakes he made along the way, that he learned how to become successful. 
One mistake Ray experienced was not understanding the potential of a loan. He initially believed that it was best to take a loan and pay it back as fast as possible. However, he learned that extending your repayment time leaves more money in your pocket to put towards premium costs. This can boost the cash value of the policy. 
Ray also had a misconception towards paid-up additions. He believed that paid-up additions are the key to making more money, so he made the base policy amount smaller. Years down the line he realized this was not growing as much as it could and changed his system. 
A major mistake Ray made early on was lending money. When he lent out money, he used signature loans and did not take the steps that a regular bank would. As a result, he lost money and had to come to terms with that. From those experiences, he learned to take precautions to ensure no additional financial losses. These include obtaining a mortgage certificate in their name, making himself a loss payee, and so on. 
Infinite Banking: Mental Blocks 
 "Think of the brain as a computer. If I could have just bought a new computer with a brand new hard drive on it, I wouldn't have had to go through this stuff, but even though you might have cleaned the hard drive or thought you did, it's got glitches in it and it keeps catching."  
There were also some mental hurdles that Ray had to face. In the beginning, Ray had a difficult time wrapping his head around the high premium rates. He saw the premium cost as a payment. The problem with that view is that when you see the payments as an expense, it is harder to see the potential it has. 
"I truly see a loan today that I make as an asset rather than a liability." 
He began to view the payments more so as a deposit. He is now excited to pay more in premiums because he has experienced how it has benefited him, his children, their children, and so on. This is something that many do not see until a few years into their  infinite banking journey.. Many see these premium payments as a pain and make mistakes as a result; as Ray did. However, once you get out of that headspace, you can see the potential of your policies.
Life Insurance as a Financial Tool
"It's sort of like a computer: the program is on there. If you find a program, you can now use it. Well, I had the tool. I was learning to use the programs in this tool called life insurance. Then, as we've learned how to use it better…" 
The mistakes Ray has made over the years have paved the way for many of his clients, friends, and family to become successful through infinite banking. From his mistakes, Ray has learned what works and what does not. He has used this knowledge to help steer others away from the same financial mistakes, so they can reap the benefits of infinite banking as soon as possible. 
Episode Resources: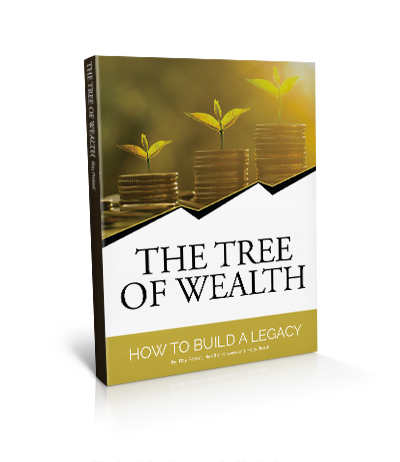 The Tree of Wealth: How to Build a Legacy FREE EBOOK