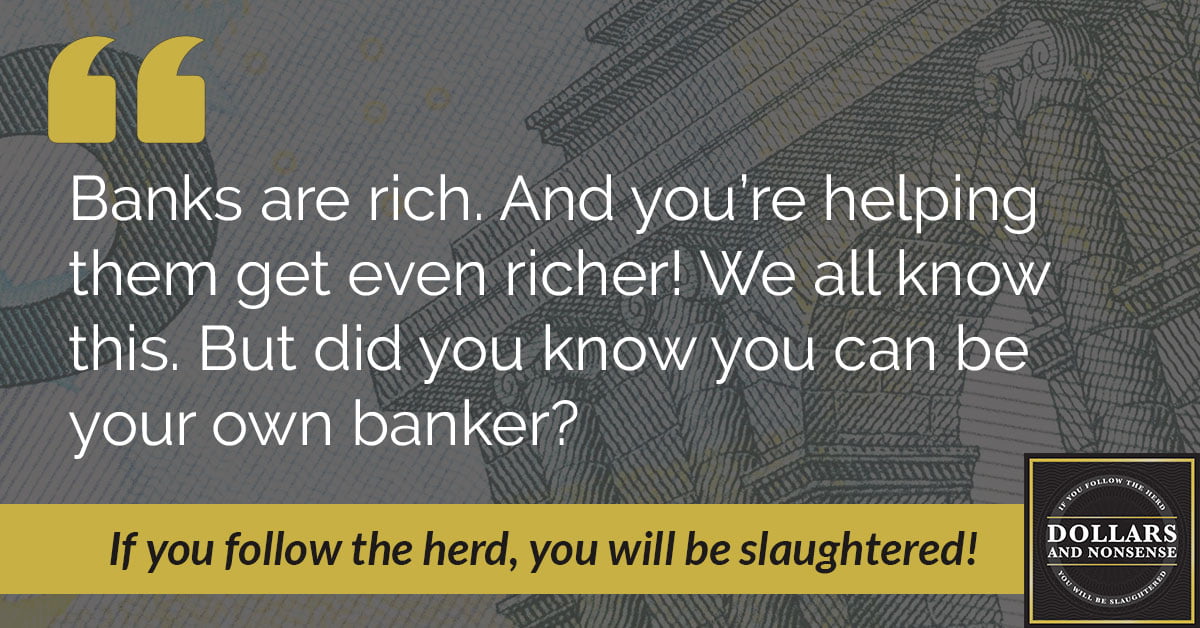 E4: How to Be Your Own Banker and Find Freedom
Banks are rich. And you're helping them get even richer! We all know this. But did you know you can be your own banker?
In this episode of Dollars and Nonsense, Nate and Holly dive into the workings of the Infinite Banking and how the banks are using it to exploit your finances. Learn how to take back control of your money and be your own banker with tips from our hosts.
Also in this episode, uncover how to:
break away from a bank account
master the power of a policy
take the place of the bank
Be your own banker
Be Your  Own Banker Episode Takeaways:
 "Often times we're taking our hard-earned dollars, making deposits into the bank, and then we're being charged to use our own money. So it's not really the bank's money that they're loaning out to you. It's all the depositor's money that they've put into the bank that the bank is then charging you to use again. So really you're paying to use your own money."

"We, the loyal customers, keep depositing our money in [the bank], hoping that if we keep doing that, something different is going to happen. And really what we do is we work harder, we buy more assets, hoping for a better outcome, but if we don't take the place of the bank, then there's not going to be a different outcome."

"The only way you ever lost money is whenever you gave up control of your money. And if you learn how to make money by becoming your own banker, you won't have to give up control of you money, and you're guaranteed to make money. And the amount of money you make is determined by how you function, not how somebody else does."

"There's really not much of a difference between a life insurance company and a bank. They're really in the same business. They need us to go put money into the gig. Then they take our money and they go make loans with it. It's the same business model. The only difference is at the bank us depositors do not ever receive any of the profits the bank makes."

"If you learn to become your own banker, to change where the money is going, change where your deposits go, change where you're making your payments to, change where you're getting your money from … it just takes a change in thinking and change in the tool that you're using, and you can make a lot more money."
Episode Summary:
Episode 4 – Break away and Become Your Own Banker 
In episode 4, Nate and Holly introduce the fundamentals of the infinite banking concept and how to be your own banker. They discuss how banks use infinite banking to control your finances and how you can take that control back. Other topics include how to break away from the bank, the importance of insurance policies, and how to use them to be your own banker. 
How banks use your money
Using a bank is what many people in society do. You deposit your money and it is kept there for us whenever we need it. With this service comes fees, loans, interest, and so on. We come to accept these fees as the norm and accept those financial losses. However, many are unaware that fees are not the only way you are losing control through conventional banking. 
"So it's really not the bank's money that they're loaning to you. It's all the depositor's money that they've put into the bank that the bank is then charging you to use again. So really you're paying to use your own money." 
The bank does not necessarily have large amounts of its own. It keeps depositor money constantly in motion. It takes your money and then loans that money to someone else, and the cycle continues similarly. During this cycle, however, they leverage your money to gain a profit. For example, let's say the bank uses your money and loans it out to someone for a mortgage. That mortgage is set at 4-5% interest. The bank will be making a substantial amount of money from that investment. However, your money, which was used to loan out that mortgage, will not receive that profit. Instead, it will continue to grow, but at a much lower rate (ex. 0.1%). 
A large portion of the bank's money is also used to purchase life insurance policies. Banks are considered a BOLI: bank-owned life insurance. Essentially, they have billions of dollars in policies and use those policies to move money and make a profit. Life insurance policies are very powerful. They grow at a guaranteed interest rate and often can grow tax-free. You can leverage the policies and borrow against them. These are just a few of the benefits of moving money through life insurance policies. Banks have been using your money to reap these benefits for years. However, this is not the only way finances can be. There is a way for you to regain control of your money and reap the benefits banks have been taking from you. 
Infinite Banking Concept
"Start putting your money exactly where the banks put their money and start using it exactly like the banks are using it." 
A way to start this is to purchase a whole life insurance policy. Once you make the deposit (premium) on the policy, you can borrow against it, while continued to earn at a guaranteed interest rate. By doing this, you are essentially creating your own bank and choosing to be your own banker to give yourself full control over your money.
There is not a big difference between life insurance and a bank. In a bank, we put money in, they take it and make loans with it. However, depositors do not make a profit. The profits go to the shareholders, bank managers, bank owners, etc. You will constantly be missing out on benefits through the bank. Even if you get more stakes or interest, the shareholders will still be getting more.
"Put yourself in a place that actually profits you, and that's why we use the policy." 
When you put your finances into a mutual life insurance company, you become the owner of the company and all benefits(dividends) go to you. You are putting your investment into a mutual company instead of a stock company. By doing this, you are guaranteed a certain amount of growth, with the potential to do much more. 
How to use insurance policies 
"Start taking over all liabilities that you have with other people and pay yourself back the interest just like you were paying them." 
One way to realize the potential of life insurance policies is to first understand your debt. For example, many have credit card debt. You keep your card and pay the minimum amount each month. In this cycle, it can take years to be free of debt. What you could do instead is put the money into a life insurance policy and recapture the debt. Pay yourself what you would have been paying the credit card company. 
Another benefit to this would be that the policy will continue to grow at a guaranteed rate even with a loan against it. The policy is increasing, while the money you borrowed from it is decreasing. Therefore, you often end up in a better position than what you started just by paying yourself instead of someone else. 
Be your own bank 
"The only way to get ahead is to trade places with the bank."
Many have the notion that we only finance things that we borrow to purchase (e.g. your home). Things paid for in cash are not what would be considered "financed." However, even when you pay in cash, the money is gone and you can no longer earn money or interest from it. Essentially, we finance everything from a car to a pack of gum. The best way to gain control over these finances is to give it back to you instead of the bank.
"Most people are in a financial mess, not because they don't make money and not because they are not intelligent, it's because of all the things we're told to do don't work, or at least don't work for us….And the best way to get control is to become a bank, and that's what you can do through a mutual life insurance company and getting a policy with them." 
It is hard to get away from the norm, but when you do, you can make a lot of money. When you become your own banker, you change where the money is going – it is all going to you. Additionally, you do not have to take as many risks with your money. Money is guaranteed, which gives you peace of mind and enables you to no longer live paycheck to paycheck. 
Benefits of being your own bank
"And now you've freed up your mind, you've freed up your money, so you can actually make money like the banks do for the rest of your life, without having to take any risks, without having to change your cash flow or your lifestyle. Just by changing where the payments are going." 
One of the major benefits of infinite banking is to get out of debt. However, it does not end there. Once the debt is gone, you can use the policy to pay cash for everything so that you never get back into debt. You will have complete control over your money and be able to determine where it is spent and used. Essentially, all major financial stress (i.e. mortgage payment, student debt, taxes, etc) can all be solved or helped by becoming your own banker. Take the steps to be your own banker today.
SaveSave
Related Posts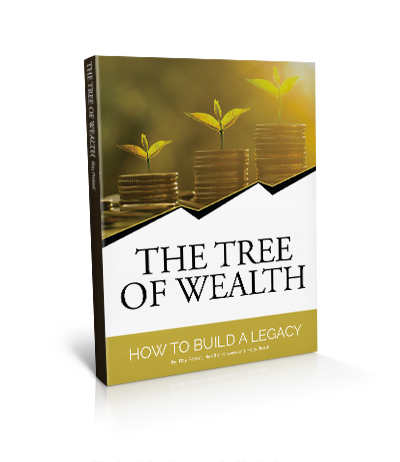 The Tree of Wealth: How to Build a Legacy FREE EBOOK