In this episode, we will discuss how to end debt. You see, there is a difference between paying off your debt and recapturing your debt. And we'll explain how this works so you can finally get off the debt hamster wheel.
There are some staggering statistics on the level of debt Americans are carrying. It's truly frightening.
But it's vitally important that you change your mindset from merely, I want to get out of debt. This should change to wanting to recapture your debt.
Getting out of debt is a topic speak with clients about every day, and that's the problem with debt. And whenever you adhere to the concept of becoming your own banker, you start to see ways of making a lot of money by recapturing your debt.
The problem is that a lot of people know what we mean by recapturing debt. And there's one more step that needs to take place we share in this episode.
How to End Debt and Recapture Your Money Topics:
How bad is the debt crisis
What is recapturing debt
Using a policy as the engine
The counter-intuitive way investing debt works
Understanding asset rich and cash poor
Finding opportunities to teach children about debt
Want Financial Freedom?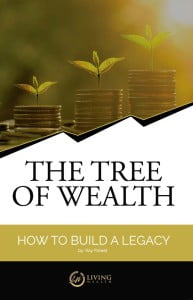 Start your journey to financial freedom with this first step.
Get our 122 page eBook The Tree of Wealth here now.
Episode Takeaways: